[60th anniversary of the masterpiece! ]
Reprint of Omega!

Why not wear the 1957 Trilogy Master Series (Seamaster/

Railmaster

) and enjoy high-performance vintage design without worrying about magnetism?
【Your worries】
Do you want a vintage watch , but want a durable watch that retains modern precision and functionality?
・Don't you want a watch with high magnetic resistance that you can use without worrying about the magnetic force generated at work?
・Don't you want the original master series from Omega in 1957 ?
When you want a vintage watch, the various parts such as the dial, case, bracelet, and movement have a deep charm that is loved for generations, like antiques, and can steal your heart. right.
Still, when I actually started researching vintage watches, I found that it was difficult to use in workplaces where magnetism is generated due to the danger of being magnetized, and it was necessary to pay attention to waterproof performance. You can also hear the voices of customers who are holding their thoughts.
In the midst of this, there is a recommended model that fully meets the expectations of Omega, the reprint model of the Trilogy Master series manufactured in 1957.
In the watch industry, the attractive design and high-performance movement that faithfully reproduced the model at the time became a hot topic!
Like Rolex, Omega is one of the world's most well-known brands.
As a Swiss watch manufacturer with a long history, it is full of charm that you can purchase high-performance and well-designed watches at a reasonable price range, but the base model Master series manufactured at that time had a high market value, and the price was low. An order of magnitude too!
It is a model that is difficult to obtain with high transaction certainty if it appears in the auction of the watch market. That's why the existence of a highly reproducible reproduction model is valuable .
Today we would like to introduce the Seamaster and Railmaster from the reprinted Omega Co-Axial Master Chronometer 1957 Trilogy Master series that is in stock at our store!
☆The Speedmaster is currently sold out, so if it becomes available, I would like to introduce its appeal in the form of a sequel.
7 attractive points common to the master series!
The reprinted classic timepiece trilogy announced by Omega at Baselworld 2017 is a special edition with only 3557 pieces in the world as a limited edition commemorating the 60th anniversary of its birth !
The master series of the Speedmaster, Seamaster, and Railmaster, which appeared as the first models in 1957, were selected as the reproduction collection. In addition to the exterior design that faithfully reproduces the base model, the in-house movement Cal. Four years after its introduction, the timepiece equipped with the 8806 continues to fascinate fans around the world.
The Master Series is known for having seven attractive points in common. Let's decipher the Trinity trilogy series.
1. black tropical dial
The base color of the dial adopts a black tropical that reproduces the dial color that has changed over time! It is an important point in reproducing the vintage feeling more realistically.
(Left) Seamaster 38mm size (Right) Railmaster 39mm size
2. Luminous paint

superluminova
Super-LumiNova, which Omega has been particular about in the process of designing the reprint model. To mimic the aging of tritium, the color of the Super-LumiNova is intentionally burnt. The color development of the luminous paint that emits green light in the dark is also perfect for visibility!

3. Industry's highest level movement Cal. 8806
The installed Cal. The 8806 is a METAS-certified master chronometer with ultra-high magnetic resistance of over 15,000 gauss, the highest level in the industry that can withstand the strong magnetic force emitted by MRI ! It is a high-spec movement among movements equipped with Omega's co-axial mechanism. Up to about 55 hours power reserve is also a great point!
4. heavy duty bracelet
The stainless steel bracelet design with alternating hairline and polish gives it a luxurious finish .
hairline x polish bracelet
5. Clasp with Omega logo
The Omega logo on the clasp is the original design! It reminds me of a vintage Omega watch.
6. Naiad mark on the crown
Looking at the crown from the front, you can see the Naiad mark inside the Omega logo mark, which indicates that the watch had high water resistance in 1957 .
Naiad mark in the logo mark
7. logo engraved on windshield
Strain your eyes and take a closer look! You can find the white Omega logo in the center of the sapphire glass windshield.
You can't miss it! 3 charms of the Seamaster
From here, we will explain the design and functions of each model in detail. The base model of Seamaster is Ref. CK2913! There are many points that cannot be overlooked, such as a dial design that faithfully reproduces the original, a rotating bezel, and water resistance for everyday use.
1. Simple and highly visible dial design and broad arrow hands
The dial index has 3, 6, 9, 12 Arabic numerals and a triangle index!
The simple dial design, such as the Omega logo mark at 12 o'clock and the Seamaster 300 notation at 6 o'clock , maintains high visibility .
The broad arrow hands with an attractive triangular shape, Super-LumiNova with a burnt color to reproduce the aging of tritium, and the black tropical dial with a retro feel make it even more vintage. It intensifies and delights watch lovers.
Simple dial design boasting high visibility
2. Seamaster engraving on the back cover and seahorse relief!
The back cover is engraved with the Seamaster notation and a relief of the seahorse, the guardian deity of the sea that appears in Greek mythology. The waterproof function is high-performance 300M waterproof !
Guardian deity of the sea Seahorse relief
3. Double the strength! Omega aluminum bezel
A special bi-directional rotating bezel made of Omega's aluminum, which is said to be twice as high as ordinary aluminum! The design that has been faithfully reproduced while far exceeding the strength of the time is an attractive point.
aluminum

bi-directional rotating bezel
You can't miss it! 3 attractions of the Railmaster
As the name "Rail" suggests, this is a timepiece manufactured with the concept of eliminating magnetic tinges , targeting railway personnel who are likely to generate magnetic fields.
The base model Ref. The CK2914 was manufactured from 1957 to 1961 for a short period of time, but even at that time it was famous as a high-performance model that retained anti-magnetism that could withstand 10,000 gauss .
1. Discreet smooth bezel that can be used in any scene
Railmaster's smooth bezel that pursues simple elegance. If you add a dial design full of vintage feeling to the details that have been sculpted to the limit, you can enjoy the unique astringency of the Railmaster as a timepiece with high class and practicality that can be used in both business and private life. increase.
The big design difference from the Seamaster is the bezel! Which do you prefer, the rotating bezel of the sports model Seamaster or the smooth bezel of the classic Railmaster?
An elegant smooth bezel that has been sculpted to the limit
2. Simple dial design and broad arrow hands
A simple dial design, just like the Seamaster! The numbers 3, 6, 9, and 12, the triangle index, and the Omega logo and Railmaster notation at 12 o'clock and 6 o'clock ensure high visibility.
Like the Seamaster, it also uses broad arrow hands with an attractive triangular shape, Super-LumiNova that beautifully reproduces the burnt color of tritium over time, and a black tropical dial full of retro feeling.
Highly reproducible dial design
3. Sudden heavy rain is safe with everyday life enhanced waterproofing
As a point different from Seamaster of diver's watch, pay attention to the waterproof function!
Railmaster is 60M waterproof with enhanced daily life waterproofing ! According to the JIS and ISO standards, the level of waterproofing is defined as a level that can withstand water work such as housework and sudden rain.
Even if it is as good as a diver's watch with a high waterproof function, it is a safe design that goes beyond daily life waterproofing!
What Co-Axial Can Do
Co-Axial is often seen in Omega watches in recent years .
Omega is famous for producing robust and long-lasting watches, and the reason for this is the Co-Axial escapement, which is indispensable in Omega's movement design.
Silicon is used for the balance spring and balance, which are indispensable parts of the caliber, while other parts are made of highly resistant Niivagauss and amorphous alloys , minimizing the amount of wear that occurs when each part is in operation. We have succeeded in making timepieces stronger and longer lasting .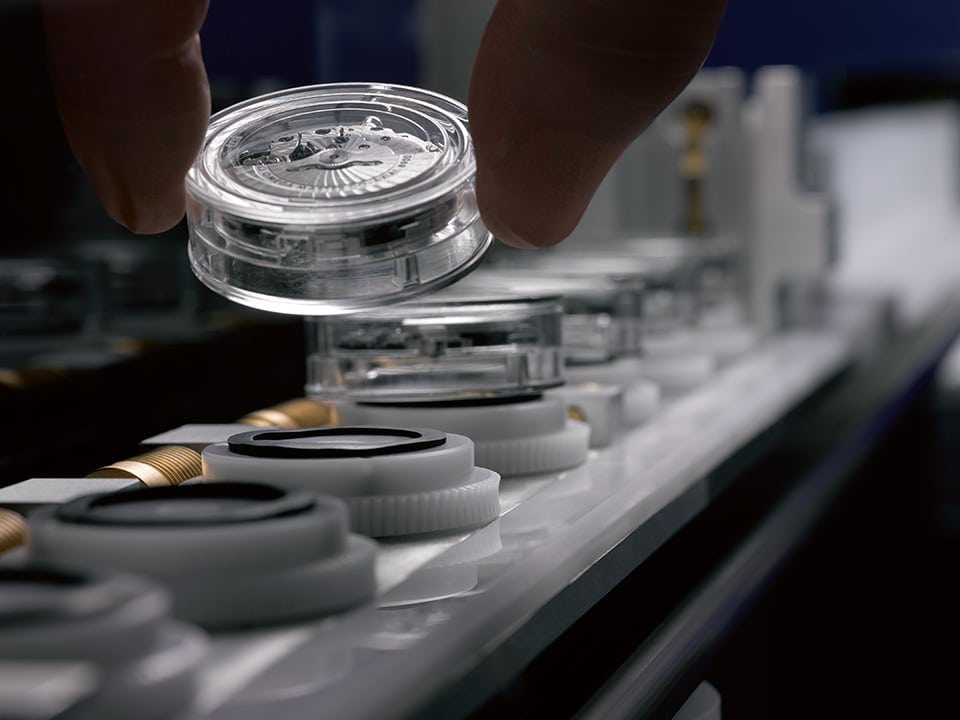 Source: Official OMEGA HP

URL: https://www.omegawatches.jp/masterchronometer
Explaining the greatness of the master chronometer
In collaboration with the Swiss Federal Institute of Metrology and Accreditation (METAS), Omega has established a strict master chronometer test to objectively prove ultra-high anti-magnetic performance.
The master chronometer test is a difficult test with a "super" mark that only chronometer-certified models that have passed a rigorous test by the Swiss Official Chronometer Testing Institute (COSC) are allowed to take the test!
The model, which has successfully passed the METAS master chronometer test, which goes beyond chronometer standards, is called a master chronometer as proof that it has the highest level of precision in the wristwatch industry and an ultra-high magnetic resistance of 15,000 gauss. A title is given.
There is no doubt that a watch that can withstand a strong magnetic field that can withstand MRI will be useful as a timepiece that is free from magnetism.
(Left) Omega Limited Certificate (Right) Master Chronometer Certificate
Even if it's not a permanent repair, it's a wallet-friendly overhaul cycle!
The overhaul period of the Co-Axial movement, which maintains the industry's highest durability and parts durability, is about 8 to 10 years!
While regular movements are recommended to be overhauled every 3 to 5 years, Co-Axial movements are attractive as extremely high-performance and cost-effective movements , as they can reduce the frequency of after-sales maintenance.
Parallel import goods and parallel disparities? Is it better to buy domestic genuine products?
If you decide to buy a watch and look up information on the internet or talk to a salesperson at a store, you will start to see and hear words such as domestic genuine products, parallel import products, and parallel disparities.
I don't really know what kind of relationship they have, and when I buy it, I get lost as to which one is better.
I will explain it below, but in conclusion , there is no parallel disparity in terms of Omega at the moment, so it is okay to choose either a domestic genuine product or a parallel import product .
1. What is a domestic regular product?
Domestic genuine products are said to be domestic genuine products that have been purchased through the official route agreed upon by the Japanese domestic retailer who has a direct contract with the manufacturer.
If it is an individual that has gone through a regular route, it can be said that it is a proof that it has gone through a safe route without worrying about counterfeits or counterfeits.
Domestic genuine products are widely handled as unused and second-hand goods at second-hand watch stores.
2. What is parallel import goods?
Unlike regular distributors who contract directly with the manufacturer, it is an individual that has been directly purchased overseas by trading companies, individual retailers, travelers, etc. in Japan and brought into Japan.
Parallel imports are sold at second-hand stores by classifying them into new, unused, and second-hand goods.
In addition to the official route for domestic genuine products, parallel import products may include counterfeits and counterfeit products.
Be careful not to purchase counterfeits or counterfeits, and be careful not to purchase products whose selling price is too far from the second-hand watch market price, and purchase from a highly reliable second-hand store that can verify authenticity. It is recommended.
3. What is Parallel Disparity?
It is a term used when the manufacturer makes a difference between domestic genuine products and parallel import products in terms of after-sales service .
Franck Muller is a representative example of a parallel disparity, and even if it is a genuine Franck Muller watch, even if you bring an individual parallel import product to a manufacturer in Japan to repair it directly, they will not accept the repair.
In addition, when repair fees are set higher than the price of domestic genuine products, it is expressed as a parallel disparity.
After-sales service for manufacturers with parallel disparities is often handled by repair workshops affiliated with the dealer where the product was purchased or by their own repair shop. If you don't want to use after-sales service only from the manufacturer! ! If you have a strong desire to do so, we recommend purchasing genuine domestic products.
*By the way, the Seamaster and Railmaster that are in stock at our store are domestic regular USED items! !
【summary】
How was it?
Based on the first model that appeared in 1957 , Omega has revived the highly reproducible master series in modern times!
Master Series is a popular collection with fans all over the world as a general term for Speedmaster, Seamaster, and Railmaster .
The 1957 Trilogy Master Series, announced at Baselworld in 2017, is a reprint commemorating the 60th anniversary of its birth .
The Cal . The 8806 is also widely known as the best watch for people in occupations exposed to strong magnetic forces.
As a METAS-certified, high-performance Co-Axial Master Chronometer, the appeal is not limited to its ultra-high magnetic resistance, and its robustness, accuracy, and operation are impeccable. The manufacturer recommended overhaul cycle is 8 to 10 years after the date of purchase ! It's safe to have a wallet-friendly after-maintenance cycle.
The dial design, which uses a black tropical dial and super-luminova , reproduces the texture of the dial color and tritium that has changed over time, giving it a retro feel!
Men's hearts can't go wrong with the enchanting Reprint 1957 Trilogy Collection! Seamaster or Railmaster, which one will your heart dance to?
The combination of details reminiscent of the good old days and the highest level of high-performance movement in modern times will surely make your wrists excited! Why don't you get a reliable partner who will give you a tasteful taste?
If you're interested, check it out now! ! Click here for details.
* Shopping loan no interest rate campaign in progress!

[Reference materials]
"OMEGA Official HP"
https://www.omegawatches.jp/
"OMEGA official website"