Good news for those of you who are having trouble with "I can't buy it!" Rolex New Oyster Perpetual 41 Turquoise Blue
Oyster Perpetual 41 announced as a new work in October 2020 ! This model has attracted attention since its release due to its bright dial color and improved functionality that make it stand out from the previous Oyster Perpetual.
Today, as Rolex's flagship models such as the Daytona, Submariner, and GMT-Master are difficult to obtain, many customers complain that they can't buy it even though they want it .
Meanwhile, we have received the turquoise blue , which is said to be the most popular among the new Oyster Perpetuals.
We recommend this product for those who are having trouble buying a watch at a boutique, or for those who have searched all over the used watch market but cannot find a product that satisfies them in terms of price and condition.
By all means, do not miss this opportunity!
In this article, we will focus on the design and functionality of the Oyster Perpetual 41 Turquoise Blue and introduce five attractive points!
Click here for a list of related articles on Rolex
Oyster Perpetual 41 Turquoise Blue Ref.124300
1. My name is Tiffany! Popular new color is turquoise blue
The new Oyster Perpetual 41! One of its charms is the real pleasure of choosing a watch from a variety of dial colors .
The wide variety of seven colors, including silver, yellow, green, turquoise blue, bright blue, coral red, and bright black, has captivated many fans since its introduction.
Among them, turquoise blue is said to be the most popular ! Since the familiar color is adopted by Tiffany, a long-established jewelry maison, it is nicknamed " Tiffany" by watch lovers around the world.
One manufacturing technique that enhances the pop and clarity of dial color is the well-established lacquer finish .
Lacquer coating is a method of applying multiple layers of coating, and is famous as an excellent method to adopt when you want to incorporate vividness and luxury into the dial color of a watch. The new Oyster Perpetual 41 also has a lacquered finish.
Turquoise blue with lacquer coating technique
2. Elegant Oystersteel case and Oyster bracelet
Oystersteel, which is used for the case material, is a stainless steel with excellent durability and corrosion resistance that is used in the high-tech industry and aerospace industry called 904L steel.
It is sturdy and easy to polish, so it is a material that is compatible with after-sales maintenance .
The Oyster bracelet has a standard 3-row link specification !
The robustness is certified because it uses metal that maintains its robustness. Rolex bracelets are designed to fit your wrist and create a sophisticated and beautiful hairline.
The manufacturing technology that has been calculated over the details and the high design that continues to produce standard models for many years are top class along with the world's top 5 luxury watch brands!
You can enjoy the finished beauty just by looking at the case and bracelet.
Oyster case and Oyster bracelet of perfect design and engineering
3. Outstanding visibility! chroma light luminous
Chromalight, a luminous paint developed in-house by Rolex, lasts for about 8 hours ! You will be fascinated by the glowing blue indexes and the luminous condition of the hands. The even index placement design is beautiful, and the visibility in the dark is perfect.
chroma light luminous paint
4. The cutting edge of the era! Excellent Movement Cal.3230
The latest movement Cal.3230 announced in 2020! It is said to be the best movement that Rolex has developed and manufactured in-house .
The multi-patented caliber 3 230 boasts advances such as increased precision thanks to Rolex's exclusive Chronergy escapement technology and an extended power reserve of up to 70 hours .
Rolex is famous as a Swiss manufacturer that boasts top-class manufacturing technology in the world , but hats off to the craftsmanship that continues to improve technology without being content with its position.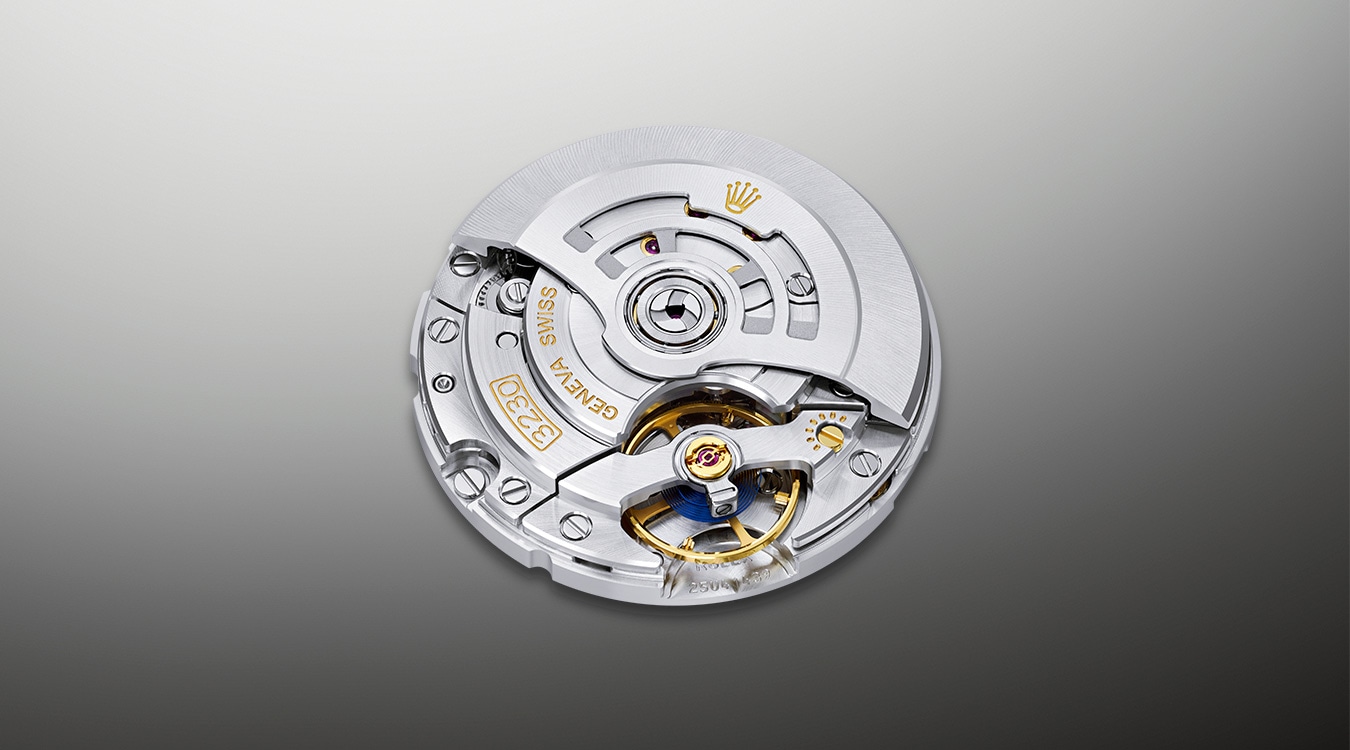 Rolex in-house movement Cal.3230
Source: https://www.rolex.com/ja/watches/oyster-perpetual/m124300-0001.html
Five. 41mm size recommended for those who want a slightly larger case size!
Larger case sizes are the trend these days, but if you are looking for a moderately sized case , we recommend the 41mm size !
Even a 1mm difference in case size will change the presence on your wrist. Please check the atmosphere of the wrist in the wrist shot of our store staff. The arm circumference size of our store staff is about 17.5cm.
Is it a little big for users with slim wrists? Although it looks like this, it is recommended for those who want a larger size.
[Don't give up because you can't buy it! If you really want one,

look for

inventory on the used watch market

! ]

The turquoise blue that arrived as our new product is an older model with a warranty date of March 2021. Second-hand beauty product with convincing condition !

*Inventory status as of August 23, 2021.

The much-loved Oyster Perpetual 41 is rarely available in Rolex boutiques. By all means, why don't you take this opportunity to look for a timepiece that is in good condition and is in the premium price range in the second-hand watch market at a reasonable price?

You may have a chance to get the watch you thought you couldn't get.

If you're interested, check it out now! ! Click here for details!
* Shopping loan no interest rate campaign in progress!

[Reference materials]
"ROLEX official website"
https://www.rolex.com/ja


[Source]
"ROLEX official website"
https://www.rolex.com/en/watches/oyster-perpetual/m124300-0001.html